Siteground has been around for years, actually since 2004, and it has pride itself in being one the best hosting company out there.
Why do you need SiteGround?...
GET 50% OFF WHEN YOU USE CLICK HERE TO ORDER
Siteground is attracting a considerable number of new clients. I am seeing clients left and right making the move from web hosts I consider quite good (like
A2Hosting
and
Inmotion Hosting
). The thing is,
Siteground is better than good
. They are above your average budget web host. I will tell you why in a sec.
Building Your Web Strategy
Coming up with a website idea is not easy. Many forget that the idea is only the first step. Setting up and operating a website is a huge deal. Businesses can break if they don't handle this aspect with appropriate care.
How will you get visitors to your new website? Are you going to advertise on Google and Facebook, or are you taking a more general approach and hope that Google will send you free traffic? There are numerous resources out there that can help you come up with your strategy.
The Multitude of Web Hosting Companies
There is a huge number of web hosts offering just about every setup you can think of. So, have you decided on
how much bandwidth and disk space will you need
? Do you know your
uptime requirements
? How about SSDs and speed?
SiteGround is easily one of the more popular options out there today, but is it all it's cracked up to be?
Here is a screenshot of my WordPress installations on my GrowBig account. I am hosting 24 websites on it at the moment.
Why Are We Hearing So Much About SiteGround?
As touched on above, there are hundreds of options out there when it comes to web hosting service providers. However, I have heard SiteGround mentioned more frequently than quite a few
alternatives
that have been considered go-to picks for years.
It certainly seems like just about every tech blogger has at least one SiteGround review posted these days! But what does it have going for it that the competition doesn't?
Meet the Founders
SiteGround as a company was started 11 years ago
by Tenko Nikolav, Reneta Tsankova, and Nikolay Todorov – three university friends on a mission to take web hosting to the next level worldwide.
Their vision was a hosting service provider that was safer, faster, and featured better support than any of the existing options. SiteGround is the result of all their hard work.
Let the Numbers Speak
Today, SiteGround appears to be living up to its original potential with
one million domains hosted
. Customers praise Siteground most often for the attention it pays to site safety, staying abreast of current hosting technology and overall site speed.
Exceptional Value for Money
SiteGround is also well-liked for offering their services at price points considered to be extremely affordable
in comparison to the competition
.
High Uptime Percentage
If there's one thing nearly every website owner tends to complain about, it's uptime issues.
Uptime Is Critical
You set up your site with the hope that it will see traffic at all hours of the day. However, if your hosting provider doesn't place a high enough priority on uptime, you'll know about it as soon as your visitors start complaining to you about
not having been able to access your site
the last time they visited.
GET 50% OFF WHEN YOU USE CLICK HERE TO ORDER
Siteground's Uptime Record
Some companies might offer 100% uptime guarantee, but it's very rare and it doesn't mean you will get 100% uptime. It just means that if you notice a dowtime, they will likely reimburse you.
What I wanted to say is that downtimes happen even with the best web hosts. And I am not saying it won't happen with SiteGround. But according to my uptime records, they had 100% uptime for months. Here is a screenshot of a 30 day period from a while ago:
It's a pure 100%!
SiteGround is pretty confident in their performance. So much so that they are offering a 99.99% uptime guarantee and they compensate customers in case they were not able to keep their guarantee in a calendar year.
And their stats show the same picture.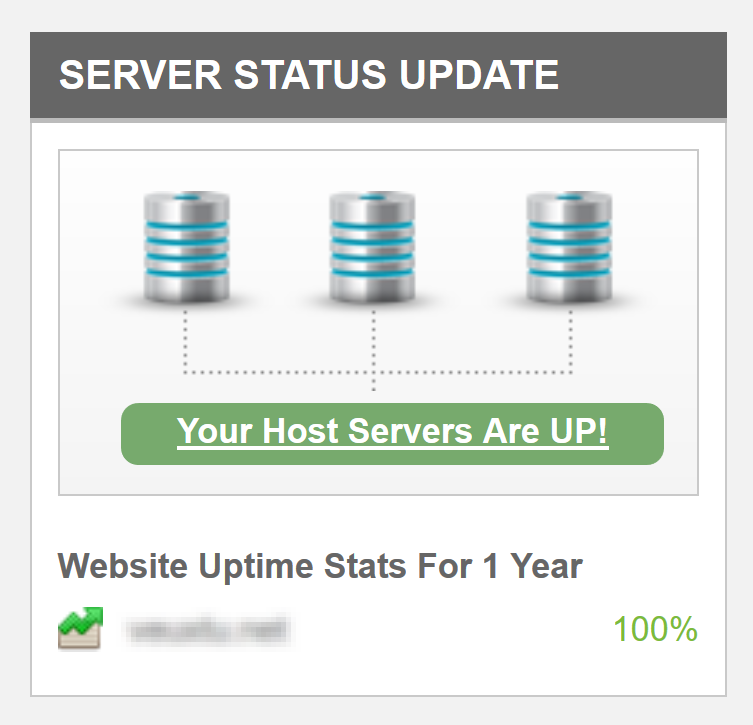 Fast Response Customer Service
Tech support is something people don't think about when they're in the process of selecting service providers. They usually realize their mistake the very first time they try to get someone on the phone to discuss an issue.
Siteground has the fastest response time across ALL web hosts I have dealt with.
I can't stress this enough.
Unfortunately, there are service providers that are all smiles and promises when they're trying to attract your business but don't care enough to deal with issues once they've got it. Avoid those! I am not pointing fingers out of character so that you won't see them on
Hosting Manual
. I only review web hosts that I trust.
GET 50% OFF WHEN YOU USE CLICK HERE TO ORDER
Ready to Serve 24 Hours a Day
It's quite prominent that
support at Siteground
is pretty much unbeatable! Yes, they're great at answering your questions before you purchase a plan. But they remain equally responsive once you're a customer.
customer support department is open 24 hours a day and seven days a week, so you're guaranteed support at literally any time of the day or night.
Instant Reply
The folks that run SiteGround are also well aware of how frustrating it can be to call in for support and wind up sitting on hold for a ridiculous amount of time.
That's why they guarantee
zero hold time when it comes to both phone support and live chat support!
You can even send in an email ticket and receive a response within 10 minutes max. You're guaranteed to be able to talk to a real person every time as well – no annoying bots or automated systems to deal with.
GET 50% OFF WHEN YOU USE CLICK HERE TO ORDER